Add Some Spice To Your Life With Babunya!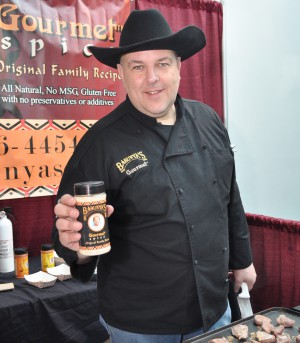 If you're looking to add a little flavor to your cuisine, look no further Babunya's Gourmet Spice is what you need! These spices come in different varieties that go perfect on chicken, fish, steak, and even baked goods. Babunya's Gourmet Spice is the perfect enhancement to any recipe. The Hot or Mild Babunya's Spice is a nice addition to Guacamole, dip, or pasta sauce. Perhaps the best part of these spices, besides being incredibly tasty, is that they are Gluten-free with no MSG, and no Preservatives or Additives.
Babunya's Gourmet Spice is an old Ukrainian family recipe cooked up by matriarch Janina Kostiw. She passed on her culinary secrets to her son and daughter-in-law, Tom and Marlen Kostiw, whose innovative ideas helped shape Babunya's Gourmet Spice. The name "Babunya" was born from the Ukrainian name for "Grandma", which Janina's grandchildren lovingly call her.
 
Fretzels – More Than Just A Pretzel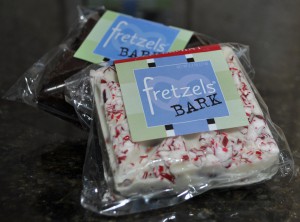 If you never had a Fretzel before, imagine a chocolate-covered pretzel but with gourmet, hand-dipped chocolate adorned with a variety of candy toppings. However, Fretzels offer more than their decadent pretzels, they also have chocolate bark which is to die for! Their Peppermint Chocolate Bark is a classic treat crafted with an amazing melding of dark chocolate, white chocolate and crushed peppermint candy canes creating a perfect snack for any time of the year! Fretzels is the brainchild of Jill Frechtman whose hobby for making chocolate-covered pretzels turned into a thriving business.      
Delicious Delights Bakery Is Deliciously Delightful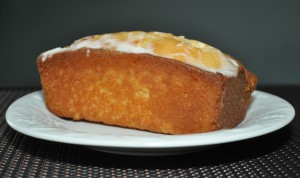 The definition of Delicious is something having a very pleasant taste or smell while the definition of Delight is something that makes you very happy and gives you great pleasure. Combine the two and you have Delicious Delights, a bakery devoted to making exquisite pastries, cakes, cookies, and other sweets. While in the Tasting Kitchen, we delighted in their Lemon Cake that was deliciously scrumptious with just a hint of lemon zest. This is a perfect dessert for any occasion whether it be a housewarming gift or a late night snack!
Go Dutch For Dessert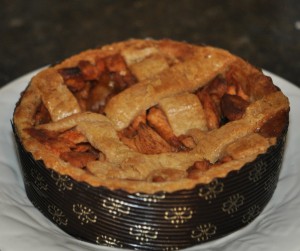 Dutch Desserts offer exquisite desserts for parties, holidays, special events or just for the urge for something sweet. The original Apple Tart is a genuine Dutch Apple Tart that distinguishes itself because of the delicious flavor of the crust in combination with apples and cinnamon. They also offer in true Dutch style stroopwafels that give you an authentic taste of the Netherlands!
Dutch Desserts, from New York's Hudson Valley, started with a Dutch Apple Tart that made people forget all about Mom's Apple Pie. Their fascination begins with the crust, a secret and treasured recipe. These tarts aren't too sweet, they make your taste buds jump to life. For years you could only get these tarts in Northeast specialty stores and farmer's markets. Now they are available to you online.
Take A Few Healthy Bites Of Darcy's Delights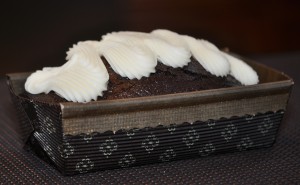 If you're looking for a healthy and delectable snack look no further than Darcy's Delights! Their fabulous all natural gluten free products will satisfy that sweet craving and leave you feeling guilt free. Besides their scrumptious New Black Velvet Cake that we sampled in the Tasting Kitchen, we also recommend their Pumpkin Bread perfect for breakfast, lunch, or dinner! They also offer delicious and nutritious Carrot Cake, Banana Bread, Corn Bread, and a myriad of other products.
Darcy's Delights is a homemade experience by Darcy that started as a family recipe for an autumn thank you to loved ones, neighbors, friends, and colleagues. It was a thank you for a Thanksgiving feast with a simple homemade pumpkin bread. A long term goal for Darcy's Delights includes writing a NYS Educational Grant that would federally fund a second establishment to mass produce the baking, manufacturing, packaging, labeling and distribution of other gluten free, sugar free and vegan delights.
Look Out Chocolate Bunnies, The Chocolate Duck Is Coming To Town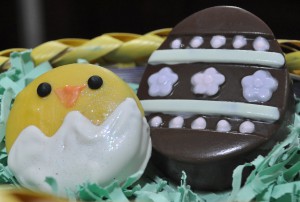 While everyone who celebrates Easter looks forward to the oh so delicious chocolate bunny in or next to their Easter basket, it is also exciting to find unique counterparts to the illustrious rabbit. After attending The I Love Chocolate Fest held at the All Star Arena in Farmingdale, we noticed a table filled with not only mouth-watering chocolate bunnies, but also some other eye-catching Easter Candy.
The Chocolate Duck located in Farmingdale is a shop devoted to everything chocolate! Their adorable chocolate covered Oreo chick and Easter egg  made a lasting impression on us. However, the most eye appealing item had to be their innovative jelly bean pie. This chocolately pie tasted even better than it looked. Although chocolate bunnies are a well known part of Easter, it is always a good idea to add a Chocolate Duck in there to change things up.
KranzKreations Create Something Sweet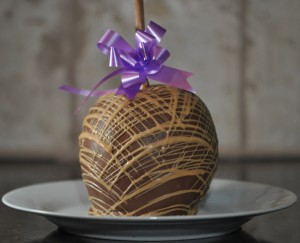 As the story goes, an Italian teaching monk was preparing bread when he decided to cut some of the dough into thin strips. He made a circle with a strip then took the ends of the strip brought them to the center, gave them a quick twist and set it down over the center of the strip. He believed it was like folding his arms when he prayed. At the end of each day the monk would give one to each student who had recited their prayers. He named these tiny breads Pretida which translates to "little reward". The Pretzel Princess, a division of Kranz Kreations, shares their own "little rewards" online or by calling (845) 856-2368.
This chocolate covered apple easily satisfies that salty-sweet craving. You can find this delectable creation on  ThePretzelPrincess  website which is a division of Kranz Kreations!
SuperSeedz Are Delicious & Nutrious
SuperSeedz are filled with nutrients to keep your body humming! Besides being incredibly tasty, SuperSeedz are a great source of protein, iron, and zinc. These gourmet pumpkin seeds come in a variety of flavors and are a perfect snack for any time of the day. The Sea Salt flavor definitely satisfies that craving for something salty! 
Every Day Is Sunday With Grandpa Pete's Sunday Sauce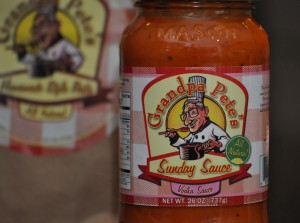 Generations of Italian chefs in the Serro family have passed down old world family recipes through years of hard work and observation. Grandpa Pete has continued this tradition and learned the secrets of great food from his mother and grandmother. When the Serro family came to America, they brought their Sicilian heritage with them in their food.  It is our pleasure to now be able to share our family history with you at the dinner table. 
This traditional Sunday sauce pairs nicely with Grandpa Pete's homemade style pasta. 
Have A Drink With Dirty Sue

Dirty Sue is twice-filtered olive juice brine made from premium olives and comes in an attractive bottle made to be stored alongside other bar staples such as Rose's Lime Juice, sweet & sour and grenadine. It allows bartenders to simply grab and pour, instead of the spooning, scooping and handling of that industrial size jar of olives that sits behind the bar. As any martini lover knows, the brine all-too-often gets used up before the olives do, leaving the olives to rot and go to waste. For more information visit Dirty Sue.