Look Out Chocolate Bunnies, The Chocolate Duck Is Coming To Town!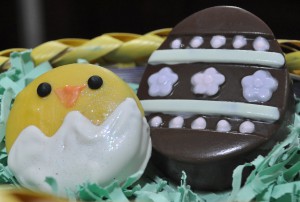 While everyone who celebrates Easter looks forward to the oh so delicious chocolate bunny in or next to their Easter basket, it is also exciting to find unique counterparts to the illustrious rabbit. After attending The I Love Chocolate Fest held at the All Star Arena in Farmingdale, we noticed a table filled with not only mouth-watering chocolate bunnies, but also some other eye-catching Easter Candy.
The Chocolate Duck located in Farmingdale is a shop devoted to everything chocolate! Their adorable chocolate covered Oreo chick and Easter egg  made a lasting impression on us. However, the most eye appealing item had to be their innovative jelly bean pie. This chocolately pie tasted even better than it looked. Although chocolate bunnies are a well known part of Easter, it is always a good idea to add a Chocolate Duck in there to change things up.
KranzKreations Create Something Sweet!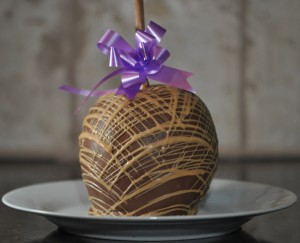 This chocolate covered apple easily satisfies that salty-sweet craving. You can find this delectable creation on  ThePretzelPrincess  website which is a division of Kranz Kreations! Or you can order directly by calling (845) 856-2368.
SuperSeedz Are Delicious & Nutrious
SuperSeedz are filled with nutrients to keep your body humming! Besides being incredibly tasty, SuperSeedz are a great source of protein, iron, and zinc. These gourmet pumpkin seeds come in a variety of flavors and are a perfect snack for any time of the day. The Sea Salt flavor definitely satisfies that craving for something salty! 
Every Day Is Sunday With Grandpa Pete's Sunday Sauce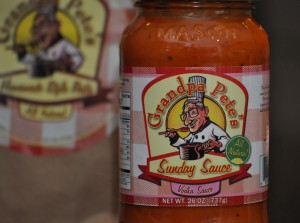 Generations of Italian chefs in the Serro family have passed down old world family recipes through years of hard work and observation. Grandpa Pete has continued this tradition and learned the secrets of great food from his mother and grandmother. When the Serro family came to America, they brought their Sicilian heritage with them in their food.  It is our pleasure to now be able to share our family history with you at the dinner table. 
This traditional Sunday sauce pairs nicely with Grandpa Pete's homemade style pasta. 
Have A Drink With Dirty Sue

Dirty Sue is twice-filtered olive juice brine made from premium olives and comes in an attractive bottle made to be stored alongside other bar staples such as Rose's Lime Juice, sweet & sour and grenadine. It allows bartenders to simply grab and pour, instead of the spooning, scooping and handling of that industrial size jar of olives that sits behind the bar. As any martini lover knows, the brine all-too-often gets used up before the olives do, leaving the olives to rot and go to waste. For more information visit Dirty Sue.