It'll Be Brittle – It'll Be Good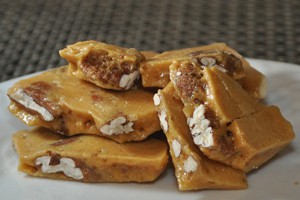 New on the scene, we find "It'll Be Brittle". They have a fine version of the ever popular peanut brittle - yet so much more. Building on the success of their original product "It'll Be Brittle" they brought us delightful versions of Cashew Brittle and Pecan Brittle that really satisfy the nut lover in us! An encore to their brittle family of varieties is a special concoction born out of their participation in the LI Bacon Bash. This special limited edition bacon brittle showcases a cacophony of comforting ingredients like cashew, bacon and sweet goodness.     
Contact: It'll Be Brittle
631.553.8736
Dutch Desserts Pecan Tart Is A Slice Of Heaven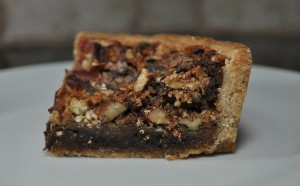 We were first introduced to Dutch Desserts with their Original Apple Tart that was so delicious we were inspired to try their other eye-appealing baked goods. With one delicate bite we immediately discovered that the Pecan Tart tasted even better than it looked. This incredibly fresh tasting blend of brown sugar, pecan, and molasses reminded us why this is a classic go to dessert. Dutch Desserts' Pecan Tart comes in different sizes from small to extra large, all perfect for sharing (if you want). If you're looking for a slice of heaven, this rich Pecan Tart is just what you need. Dutch Desserts also offer a variety of other charming tarts such as Blueberry, Mixed Berry, Peach, Raspberry, Pumpkin, and Chocolate.     
Contact: Dutch Desserts
518.758.8820
Today's Forecast Calls For Clear Skies With A Chance Of Chocolate Rain!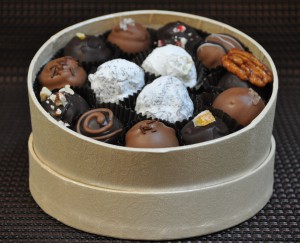 No matter the climate, Chocolate Rain Shop's incredible tasting truffle pieces, rich creamy centers dipped in fine Belgian chocolate just melt in your mouth. There are 13 truffles packaged in an elegant round cream box and tied with a black grosgrain ribbon  to make it a truly special treat.  We were really impressed by the fabulous flavor palate of each one of these incredible handcrafted chocolate treasures. In other words if we had to pick just one it would be difficult. However, the Pistachio Truffle was the one we kept talking about in our Tasting Kitchen.  The other contenders that fought for our undivided attention, were the White and Dark Chocolate Champagne, the Sea Salt Caramel Chocolate, and the Mango-Peach Truffles. But to be fair there were also the Milk and Dark Chocolates, the Gran Mariner, the New Orlean, the Whiskey Pecan, and the Dark Chocolate Peppermint Crunch that completed this baker's dozen of truffles. Inspired by the chocolate class at the French Culinary School, The Chocolate Rain Shop's aim is to have the finest ingredients including: the finest chocolate, creamiest caramel, and premium grade large Granny Smith apples. Their passion in creating  and producing mouthwatering chocolate confections is self evident. Just so you know, they also offer  a selection of French style Macarons which come in a variety of colors and flavors. As well as small almond petite fours and English cream scones.
Contact: Chocolate Rain Shop
69 Wilton Avenue,  Norwalk CT
203.956.6000
Laurel Lake's Moscato Sparkling Wine Is Perfect For Any Celebration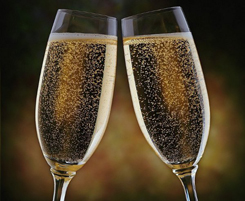 Laurel Lake's Moscato Sparkling wine is filled with tropical flavor where the ripe peach and pineapple jump out of the glass. Moscato blends soft acidity with sweetness, adding to its sipping pleasure. It is ideal after dinner or served with delicious strawberries for a sparkling celebration. It also pairs well with strong cheeses and mildy-acidic fruits. Whether your toasting the New Year or celebrating a crowning achievement Moscato Sparkling is certainly a great way to commemorate the occasion.
Contact: Laurel Lake Vineyards
3165 Main Rd, Laurel, NY 11948
631.298.1420
Click here to Purchase Online